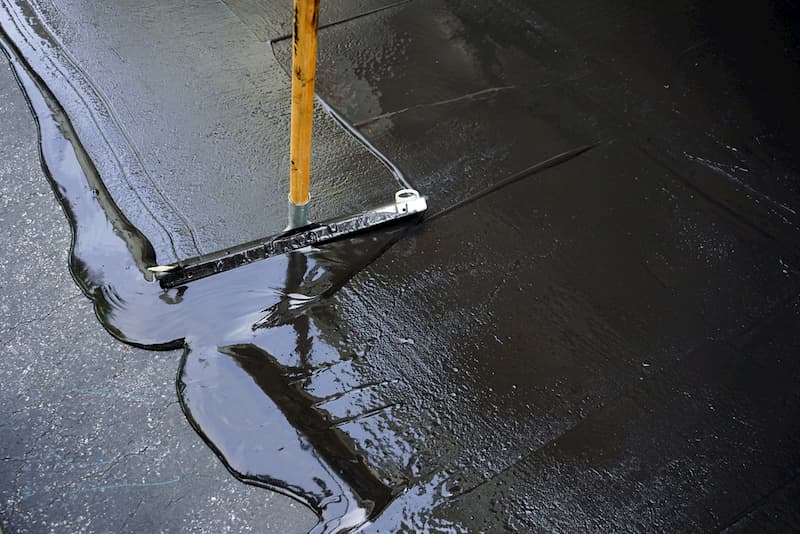 Maintain your commercial parking lot or residential driveway with a professional sealcoating service by Neyra Paving. Explore the basic application steps and the many benefits of this preventative maintenance task for your asphalt surface. Whether you're restoring a damaged commercial surface or protecting your home driveway, you'll find the services you need in Cincinnati and the surrounding area. Update your home decor or discover how to grow your business through critical property investments.
Professional Protection
A sealcoat is a top layer that qualified pavers add to your existing asphalt surface. This process may not initially seem necessary, but it is an excellent preventative maintenance strategy to extend the lifetime of your pavement dramatically. Sealcoat services performed by a qualified professional can add as much as eight years of additional life to your asphalt surface.
Full-depth repair and replacement services for a driveway or parking lot are significantly more expensive than a surface coat. That's why many professional paving teams recommend this process every three years. Even decades of sealcoating services every three years is more affordable than a full-depth repair, so save time and reduce stress with your next asphalt repair project. Learn more about the specific benefits of an asphalt sealcoating service by Neyra Paving.
How Sealcoating is Applied
The process of applying sealcoating is a skilled service. Only work with a paving company with the experience necessary to coat your surface with a consistent, long-lasting layer of sealant. The process starts with a thorough inspection of your pavement. This will give you and your paving team a better understanding of the current state of your pavement.
After an inspection, your paving team will provide you with the list of recommended services, as well as an estimate. Use caution when working with professionals who won't offer a written, reliable estimate before the project begins.
The sealcoat is a layer of liquid that coats the surface of your pavement and restores its essential features, such as UV protection and anti-skid properties. This process should be reasonably fast; sealcoat requires an average of 48 hours to cure fully. If the coat isn't carefully applied in a consistent manner, it can affect the curb appeal and durability of your pavement.
Applying a sealcoat requires specialized asphalt tools and an understanding of the ideal sealant for your specific climate and asphalt type. Avoid DIY attempts and trust this skilled job to a professional paver.
Reduced UV Ray and Oxidation Damage
Direct sunlight exposure throughout the day can have a number of lasting effects on your asphalt parking surface. First, UV rays damage the surface and increase the risk of cracks and potholes forming. Second, asphalt easily absorbs heat and softens when it becomes too hot. Finally, asphalt binding can be compromised with both air and sun exposure.
The result of continued sun exposure is usually increased cracks and reduced pavement lifespan. If shielding your entire parking lot or driveway from direct sunlight is impractical, asphalt sealants can provide much of the same protection.
Improved Snow and Frost Protection
Add a sealcoat to speed up the melting process of ice and snow on your pavement. Snow and ice forming on your asphalt surface is not only a hazard for customers, employees, and guests, but it's also the primary factor in cracks and chips forming in your asphalt. Without the right sealcoat, rain and melted snow can seep deep into the surface of the asphalt. Once temperatures drop again in the winter, all that water will freeze and expand, causing significant damage to your parking area.
Sealcoating and asphalt sealants can help you affordably reduce these devastating effects. Don't wait until snow and ice cause cracks to form before sealing your parking lot. Severe cracks caused by expanding water can compromise the foundation of your parking area. This may require a full-depth rebuild rather than a surface repair.
Decreased Cost of Asphalt Maintenance
Preventative maintenance tasks go a long way toward reducing the cost of ownership of your parking lot or driveway. Combine sealcoating, crack sealing, and other maintenance services available from Neyra Paving to enjoy an affordable parking surface with an increased lifespan. While these surface repairs may not fully prevent a full-depth reclamation project, they can increase the time between services.
Improved Overall Appearance
Is your asphalt faded, chipped, and stained? A well-worn driveway or commercial parking lot can detract from the curb appeal of your property. Restore the iconic black surface of your asphalt parking area for a renewed sense of pride in your location. Whether you're preparing a storefront for an important promotional event or inviting all your family to your home for the holidays, sealcoated asphalt offers a well-maintained look.
Reduced Visible Cracks and Prevent Potholes
A sealcoat may not be the appropriate service if your parking area is already covered with extensive alligator cracking or noticeable potholes. Work with Neyra Paving in the Cincinnati, OH, area to find out the best asphalt paving services for your specific surface or foundational damage. This sealant step is best used in combination with a full-service asphalt maintenance plan.
Minor cracks and imperfections can be conveniently covered and sealed with this professional asphalt service. Work with a professional team to ensure you receive the proper preparation steps before the sealcoat is applied. Large cracks, potholes, oil, and other imperfections may need to be handled before the sealcoat is applied.
Protective Seal Against Gas and Oils
A gasoline or oil spill is a messy accident, particularly if it spills on your pavement. Not only do these liquids quickly stain asphalt, but they can also seep into the surface of your parking area and create an oily patch that's extremely difficult to remove. In a professional shop or the driveway of a car enthusiast, oil and gas may be spilled every day.
Sealcoat provides a surface coat that prevents oil and gasoline from penetrating the surface in the first place. A preventative seal eliminates the time-consuming task of cleaning up oil and gas stains that have penetrated the pavement.
Enhanced Resistance Against Skids
Typical asphalt mixtures use sand-sized particles to create a textured surface. This increases the friction of tires, feet, or any other item moving along the surface. As your parking surface ages, these fine particles are worn down or removed from the surface, leaving a smooth, slippery piece of pavement.
Don't wait until a customer or family member has a fall. Carefully monitor the surface and work with a local, professional team immediately if you notice a spot that is free from its naturally skid-resistant properties. A new sealcoat refreshes the textured surface of your pavement, making it safer for foot traffic and vehicle traffic.
Work with Neyra Paving to Sealcoat Your Asphalt Project
Take on this critical asphalt maintenance step with the help of Neyra Paving. Request an estimate for your residential or commercial property in Cincinnati or the surrounding area. Work with an experienced team to enjoy hassle-free maintenance and long-lasting protection for your parking area. You can also reach out by phone by calling (513) 733-1001.
_____
Image Credit: Shutterstock/ vm2002