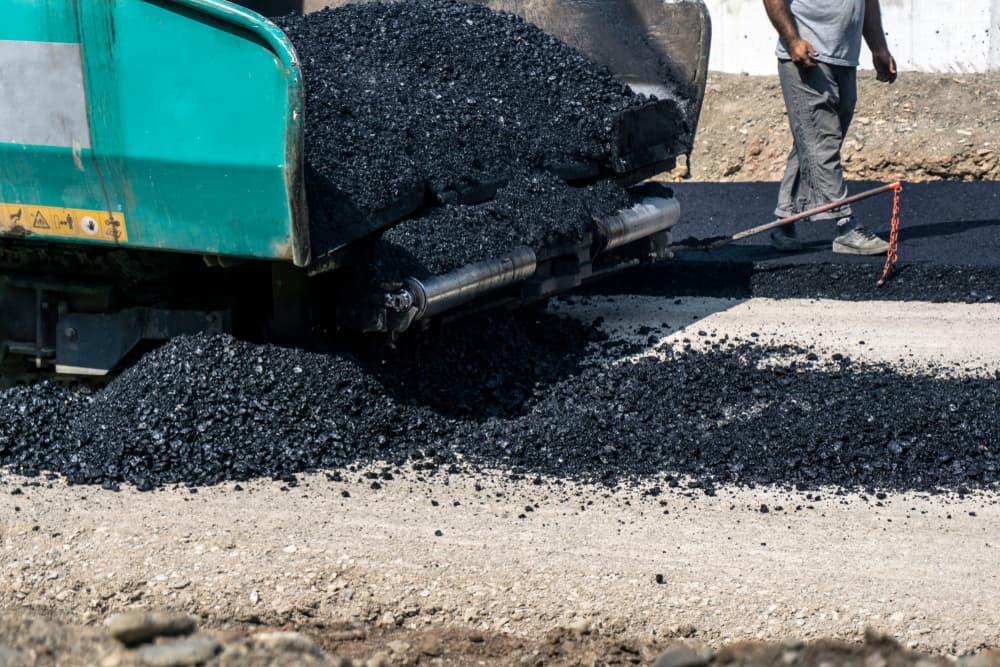 Neyra Paving is your trusted source for all your commercial paving installations, from concrete and asphalt design to paving, reconstruction, repair, and sealcoating needs in the Greater Cincinnati area.
Our commercial, city, county, industrial, medical, retail, and homeowner association experience includes:

Our local, family-owned commercial paving service brings a combined 40 years of experience to our projects. Our goal is to provide the highest quality work, regardless of the project size or scope. When you need commercial paving contractors, Neyra Paving is the answer.
Asphalt Paving
The durability and longevity of your asphalt paving have to do not only with the experience of the paver and the quality of the product but also with the weather conditions in the area. As a local contractor, we understand the particular seasonal challenges of our Greater Cincinnati weather, as well as the unique load-bearing capabilities for each project. We can handle the full asphalt project lifecycle from design to execution and beyond to maintenance and repair. Whether you have a small business that needs a parking lot to an entire shopping center, our team has the experience and capabilities to deliver on time, on budget, and with superior quality. 
Full-Depth Reclamation Services (FDR)
Full-depth reclamation or asphalt paving recycling is a way to reduce waste by reusing existing pavement. The FDR process consists of reclaiming the old asphalt before pulverizing and mixing it with water and cement to create a new material. The compacted and graded material creates a strong, stable, and durable base on which to apply new asphalt. Advantages of FDR include enhanced moisture resistance, reduced maintenance, minimal waste, and lower cost as compared to removal and replacement. 
Concrete Paving
When your commercial paving installations require concrete, we can deliver. Our commercial paving capabilities include:
ADA compliant ramps

Curb & gutter

Sidewalks & flatwork
ADA Compliant Ramps
If you are renovating a business, you know what all newly constructed building owners know: your property must comply with the Americans with Disabilities Act. While some existing buildings may only need minor changes for compliance, others may need help with a design to bring them up to ADA standards. We specialize in barrier-free ramps, access ramps, accessible parking lot grades, as well as ADA striping and signage. Whether you need an accessible design for a new build or a renovation, talk to our team today to get started making your business easy to navigate for all customers. 
Curb and Gutter 
A curb and gutter combination helps to funnel water away from the driving surface and define and anchor the pavement. This one-piece concrete structure helps to minimize pavement expansion and ward off premature deterioration. Another important function of the curb and gutter is to create a barrier to keep vehicles on the roadway by blocking access where it isn't safe to drive. We provide design, new build, and renovation services for concrete curb and gutter applications. 
Our curb and gutter services extend to new construction, new installations on existing pavement, and restoration of existing curbs and gutters. For installations on existing pavements, we prepare the area for construction before forming and pouring the concrete. If you require restoration of an existing curb and gutter, we will first cut out the section for repair before smoothing the edges. That allows us to then lay a subbase before forming and pouring the new concrete curbing. 
Sidewalks
Sidewalks provide a safe pedestrian area for your customers, keeping them out of the roadways, driveways, and parking areas. We can install sidewalks where there were none previously, or we can repair or replace existing ones that have buckled or deteriorated. No matter what your pedestrian walkway needs, we can help. 
Pavement Maintenance
Providing safe access for your customers is every business owner's responsibility. Part of that obligation is ensuring that all pavements are in good repair. Proper maintenance prevents accidents, helps to direct traffic flow, and provides adequate room for parking while extending the life of your driveways or parking lots. Our pavement maintenance services include:
Patching

Striping & signage
Asphalt Surface Patching
Over time, the load from vehicles and the stress of seasonal weather variations will take their toll on your asphalt. Potholes can develop quickly and, if not addressed correctly and quickly, can grow from a small repair to a major undertaking. When the pothole is due to minor surface damage with no base failure, we can cover and seal the area before water and traffic can increase the deterioration. By paying attention to small repairs, you can save money while extending the life of your asphalt pavement. 
Neyra Paving is Your Commercial Paving Contractor
At Neyra Paving, we understand the importance of having locally-owned businesses that we can place our confidence in, and we want all our customers to feel that way about us. As a paving contractor, we are fully licensed and insured. We are here for all your asphalt or concrete paving needs, from design through installation, maintenance, and repair. Contact us today or call (513) 733-1001 to discuss your commercial paving needs.