Asphalt is a durable material. That's why it is the most popular choice for municipalities and commercial property owners. However, constant use by heavy vehicles and sustained exposure to the elements can eventually take their toll. Keeping asphalt in good condition requires maintenance.
Neyra Paving understands what it takes to keep Cincinnati area asphalt in good condition. We have the experience, the equipment, and the techniques that keep our satisfied clients coming back for all their commercial asphalt needs. We provide sealcoating and striping services that can reduce expenses while extending the life of your asphalt roads or parking lots.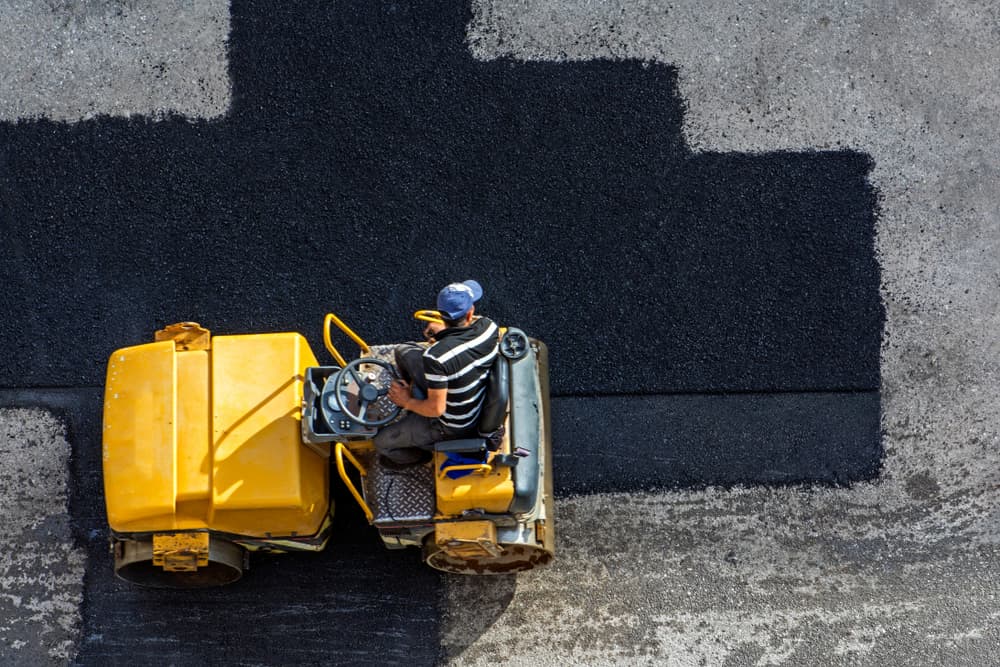 What is Asphalt Maintenance?
The adage "an ounce of prevention is worth a pound of cure" is also applicable to asphalt. Though installing new asphalt  may be necessary, it can be costly and is a true business investment.. Once you've made that investment, you want to preserve its useful life for as long as possible. One way to do that is to perform routine maintenance. 
Sealcoating can protect asphalt surfaces from intrusive and destructive oil, water, and U.V. rays. It can also seal off minute cracks, preventing them from becoming larger fissures or potholes. Sealcoating preserves the welcoming look of a well-maintained property. We recommend applying sealcoating every two to three years to preserve the aesthetic appeal and functionality of your asphalt road or commercial property. 
Another area of asphalt maintenance is striping. Striping serves multiple purposes. It streamlines and directs traffic flow, clearly indicates drivable areas, and allocates adequate vehicle spacing for parking. It is ideal for showing pedestrian crossings or walkways. Clearly defined striping adds to the safety and usability of your asphalt surfaces.
Benefits of Asphalt Maintenance
A routine asphalt maintenance program can help in the following ways:
Preserve your investment

– Keeping your property in like-new shape prolongs the life of your asphalt surfaces.

Discover potential issues before they become big problems

– Identifying areas of risk means you can treat them before your asphalt deteriorates, preventing expensive repairs or replacement. 

One-stop repair and maintenance

– If our experts find areas needing minor repair, they can perform it simultaneously as the maintenance, saving you time and money. 

Increases safety

– Clear lines and solid surfaces prevent cars from driving where they shouldn't, clearly denote where to stop or yield, and show designated parking areas. Potholes can cause drivers to swerve, increasing the risk of an accident.

Makes the surface more navigable

– Smooth, even surfaces are easier to drive on.

Preserves the aesthetic appeal –

Neyra Paving can work with you to design a maintenance program that fits with your business needs, low traffic times, or off-peak business hours. It preserves the aesthetic appeal and creates a visual welcome sign to enter the property. Well-maintained asphalt roads reflect favorably on the town as a whole.

Asphalt surfaces have many advantages over other types of pavement. It costs less to build and maintain and is smoother and quieter than the alternatives. Dark asphalt with bright white or yellow lines creates a stark contrast, making it easy for drivers to follow. Asphalt lasts significantly longer than alternative paving materials when designed and constructed correctly and maintained routinely. 
What Happens When You Don't Maintain Commercial Asphalt
It may be easier to see why a commercial asphalt maintenance program is a smart way to preserve your investment by illustrating what happens when it is not serviced periodically. Asphalt is made from an aggregate, such as sand, slag, crushed rock, gravel, or recycled materials, combined with binders and fillers. It can soften as it heats up, becoming more elastic under some conditions.
When asphalt is subjected to temperature extremes and pressure, it is subject to thinning or cracking. If rainwater, oils, or chemicals are introduced into those cracks, the solid asphalt can break down into a mealy mess. Additionally, once the subgrade is no longer protected, it can wash out, creating an even larger problem. As vehicles and equipment apply pressure, the issues are exacerbated.
Why Choose Neyra Paving for Commercial Asphalt Maintenance
Neyra Paving is a highly respected commercial asphalt maintenance contractor in Cincinnati, OH. As the oldest and most prominent minority-owned paving company, we are proud that we have a long repeat client list. We provide asphalt maintenance, paving, striping, repair, and seal coating. Regardless of the size or scope of the project, we have the experience to handle it.
Our fully licensed and insured team is local to Cincinnati, OH. We all live and work in the area, and it is in our interests as well as business owners to have well-maintained driving surfaces. The Neyra Paving team is experienced in a wide range of projects, including:


Commercial properties
Apartment buildings
HOA communities
Homes
Restaurants
Schools
Senior centers
Car Dealerships
Churches
Office buildings

As a local business, we understand the laws, requirements, restrictions, and procedures in the area for asphalt paving, as well as the local weather and other factors that affect your surfaces. Every project is unique, and we take the same time and consideration to understand the project needs for each one. When you need to plan a roadway or commercial parking area, contact us today for a free estimate. You can also reach out by calling (513) 733-1001.