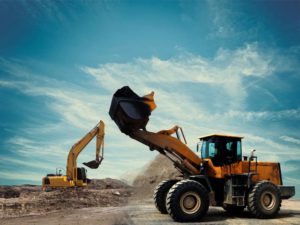 As construction is beginning on commercial projects, performing professional demo service and laying the groundwork for the foundation of the building is key to the overall quality and longevity of the site. A solid foundation depends upon the groundwork and building pads. Our team is there paving the way for construction to begin with laying dirt, doing preliminary rough grading, ensuring material density, and making it flat, level, and stable. 
Why Are Exterior Demo Services and Building Pads Necessary?
Before a structure is built, there is a host of preliminary work that must be done. Construction site services ensure that the site is free from rocks, graded appropriately for a level pad, drains groundwater or runoff appropriately, and any other pre-construction work that could safeguard the structure's foundation. It can include clearing, excavation, filtration, pavement, and much more. That means that it not only takes a firm with a breadth and depth of construction site services expertise but the right equipment to perform the tasks. 
Neyra Paving
leverages various heavy equipment for all sizes and types of projects. Preparation may require equipment such as dozers, excavators, loaders, and dump trucks to move or remove the dirt at your site before grading and leveling. Everything we do is in strict compliance with OSHA safety standards as well as local building codes.
What Are Construction Site Services?
Our services include:
Assessment

– Before any work starts, it requires a site assessment to identify the tasks needed to prepare the site. After meeting with you to understand your project, we'll examine the site and prepare an initial plan with estimates. 

Clearing –

Often, the construction site has vegetation that must be cleared, such as trees, tree stumps or roots, shrubs, and thick weeds. We will doze and remove the debris in preparation for the next step. 

Excavation

– Anything at the site that prevents a smooth, firm, and level foundation must be removed. It could include rocks, soil, or previous construction debris like concrete. Our team will conserve and reuse any soil rather than hauling it off during excavation, only to bring more in later.

Subgrade stabilization

– Part of our assessment is identifying the soil types to identify stabilization needs. Without this vital step, the soil could shift over time, causing cracking and instability in the building foundation or surrounding paving. If necessary, we can excavate and remove existing soil to bring in more soil more appropriate for stabilizing the structure.

Shoring and Erosion Control

– Another critical assessment is protecting the site from erosion and weathering. Shoring and erosion control can protect against excessive rainfall, runoff, severe weather, sedimentation, and other environmental factors that could destabilize the soil, damaging the structures. We will recommend the best techniques and structures to prevent shifting or erosion at your site.

Drainage

– Groundwater can also be a factor to address in addition to storm runoff when assessing the site's needs. We will evaluate the site and recommend what is needed to provide adequate and effective drainage.
Benefits of Working With Neyra Paving
When your Cincinnati, OH, project depends upon experienced professional exterior demo services and building pads, Neyra Paving is here for you. We have completed many construction services projects, from large-scale to smaller site construction and paving projects. Our dependable, cost-effective services come with a host of benefits, including:
Experience –

With Neyra Paving, you benefit from a fully licensed and insured paving contractor with a combined 40 years of experience. We have an impressive portfolio of prior projects and satisfied customers. Whether you need site preparation for an entire building, establishing a parking lot, or repairing existing pavement, we have the training, experience, equipment, and expertise you need to ensure a successful outcome.  

Comprehensive site evaluation

– Our highly experienced team of experts can do a comprehensive site assessment and provide an initial plan and estimate quickly. Once you have your initial estimates, we will work on a more detailed proposal. 

Strategic pavement plan

– If you choose Neyra Paving, we'll deliver a detailed plan designed to deliver the project on time with minimal business disruption and maximized access during construction. 

Superior management and execution

– When you work with an experienced professional contractor like Neyra Paving, you get superior project management to inform your team and ensure execution according to specifications, budget, and timeline. Our project managers will work with your project managers during the project

.

Maintenance – We have extensive experience in asphalt and concrete paving. That means that whether we repair or install new parking lots, we also can maintain them to prolong and preserve their useful life. By keeping your surfaces damage-free, you not only safeguard your investment but you help ensure the safety of your customers.  
Contact Neyra Paving To Get Started
Neyra is not just our business name, it's our family name. Our family-owned business is fully invested in every project, no matter the size or scope. Our experienced team is here to assist with all your questions.
Contact us today
for a free onsite estimate for your Cincinnati, OH, area project. You can also reach out by calling (513) 733-1001.