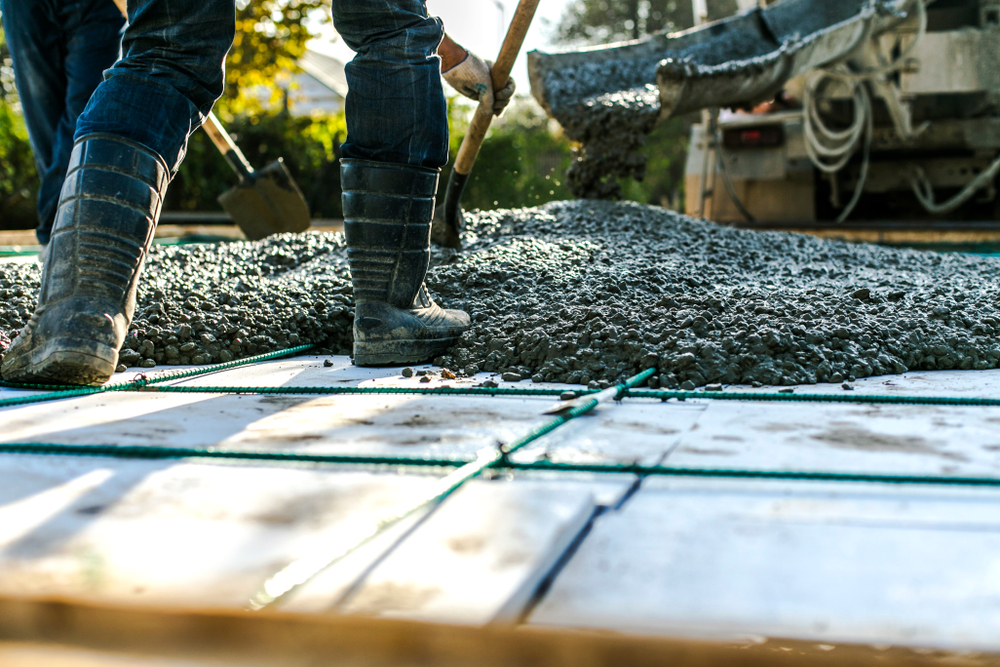 How Much Does It Cost to Pour a Slab of Concrete?
Pouring a slab of concrete is one of the best ways to get started on an addition when refreshing your home. With a paved slab, you can place a workshop, a clubhouse, or even an outdoor office on the slab with swift and efficient emplacement. In other cases, you may be planning to re-pave your driveway or the floor in your basement to get rid of that old cracked pavement.
One of the most common questions is how much your concrete slab will cost to pour. While the answer can vary project to project, you can establish an understanding of a general budget.
The Average Cost of a Concrete Slab
Range: $4.34 – 7.73 per square foot of concrete poured. 

$6.60 average cost of a residential concrete slab
Repave a Driveway
$1,400 – $3,300 to re-pave
If your driveway is cracked and you're ready for a new one, you can repave the average size of a driveway with some flexibility, give or take a few square feet. Repaving your driveway costs an average of $1.5K to $3K for the stretch, including labor.
Re-Pour the Garage Slab
Are you looking for a fresh new slab under your garage? Quotes for this pour range from $3K to $6K. This will get you a smooth, pristine garage. 
Pour Foundation for a New Shed
A new shed in the backyard can be an exciting opportunity, starting with the foundation. You'll find these small structures are much easier to plan for and more affordable to slab, with only $700 to $1,000.
Pave Yourself a Patio
You can even define a new space entirely. If you do not already have a deck or patio, you can pour a lovely patio to enhance the look and feel of your home. 
What Factors Determine the Cost of a New Concrete Foundation?
Slab size in length and width

Slab thickness from bottom to top

Concrete formula and durability

Landscaping for the paved space

Expert vs. DIY completion
Slab Size in Length, Width, and Height
The first major contributor to the cost of pouring a concrete slab will be the size of the space you want to pave. Naturally, a larger area will require more concrete to fill and more people paying attention to each section as it dries. Calculate the potential cost by square feet, whether your space is long and slender or vast and spacious.
That said, the depth of the concrete also matters. A thicker concrete slab will require more material to fill the space and take longer to cure as air reaches the porous center of the slab.
Concrete Formula
Some concrete formulas are more costly than others due to density or specific, purpose-selected, or higher-grade materials. Choosing an advanced concrete formula may increase the cost of your concrete pour.
Cost of Landscaping to Prepare for Your Slab
Next, take a look at the land where you plan to place the slab. This will need to be cleared, leveled, graded, and prepared with the substrata layer before concrete is poured. You can potentially DIY your landscaping, but it's better to use a known and trusted provider with whom you will become a client.
How to Reduce the Cost of Pouring a Concrete Slab
How can you arrange to pay less for your concrete pour without reducing the quality of the concrete or the service? There are several ways a business or homeowner might save money on their following plans for a new concrete slab pour.
Do Your Own Pre-Slab Landscaping
Prepare the land yourself. If you are not simply re-pouring an old slab, take your time and rent the right tools to flatten the ground where you plan to pave.
The Right Concrete Formula for the Job
Concrete comes in many different weights and formulas. Most homes don't need industrial-strength concrete, just as most industrial brands don't need decoratively colorful concrete blends.
Pour When the Weather Is Good
Make sure you choose a few sunny days to pour your concrete. A fast, flawless pour can reduce the overall cost of your concrete slab projects.
Pour Your Concrete with Neyra Paving
Find out the cost of your next concrete slab pour with the help of our Neyra Paving. We will help you build the perfect paving plan for the area, size, and durability you need for your next concrete pour. Contact us today to begin a consultation on the best concrete slab services available.